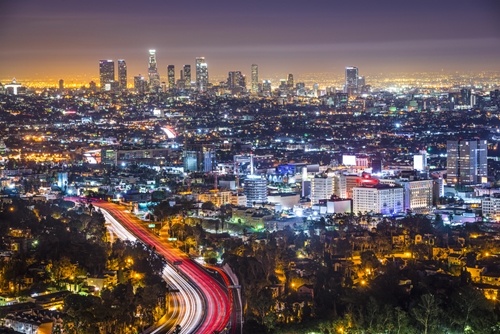 There's never a dull moment in the City of Angels.
One of the best perks of being a travel therapist is the chance to see some of the most iconic places in the country. Los Angeles and the surrounding metropolitan area have many opportunities for therapists at hospitals, clinics and private physical therapy centers. If you accept a contract in Southern California, you'll always have something to do in your off time. Keep reading to learn about some of the best things to do in the Los Angeles area:
For art lovers
There's no shortage of spectacular art in the Los Angeles area. The Getty Center should be at the top of your list if you want to spend the day absorbing culture.
Not only does the institution contain galleries filled with masterpieces, the architecture of the building is a work of art in itself. Designed by Richard Meier, The Getty Center uses the color white to extraordinary effect in creating a space that is modern and imaginative. Parts of the site are made of travertine from quarries near Rome – the stones contain fossilized leaves and feathers which create amazing natural textures.
Another must-visit museum is The Broad, which is dedicated to post-war art. There, you'll see works from artists such as Jeff Koons and Andy Warhol. According to TimeOut magazine, the museum contains an installation of endless mirrors and LED lights that makes visitors feel as if they're standing in a vast field of stars.
For movie buffs
When you're in Tinsel Town, you have to see the many sites dedicated to the magic of Hollywood. On the Hollywood Walk of Fame, you can find the names of your favorite actors and you might even get to take a picture with a lookalike. Stop by the TCL Chinese Theatre to see where stars such as Judy Garland, John Wayne and Shirley Temple left imprints of their hands in cement squares. Even C-3PO and R2-D2 made their mark at the theater!
For a more interactive experience, consider taking a tour of the local studios. You'll get to see where some of your favorite movies were filmed and you could catch a glimpse of someone famous. You can also apply for free tickets to one of the late-night talk shows.
"There's lots of authentic Mexican food in LA."
For foodies
Los Angeles has lots of great restaurants for every taste. Foodies who love a bit of spice in their dishes will feel like they've died and gone to jalapeño heaven. From delicious handmade tacos to gourmet seafood, you'll find new twists on old favorites as well as foods you've never tried before. But it's not all fancy restaurants. For an authentic Mexican meal, scope out a food truck or cart for the best south-of-the-border flavors.
Southern California even does fast food a little differently than the rest of the country. While you might want to stick to healthier options, you can't go without trying local chains like In-N-Out Burger and Jack in the Box.
There's never a dull moment in the City of Angels, so when you grab a contract for the Los Angeles area, you know you'll never be bored.