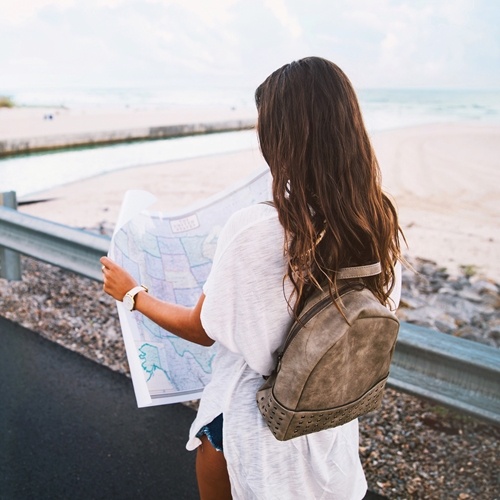 Whether you currently work as a travel physical therapist or are considering travel PT as a possible career path, reading blogs written by others in the field can be incredibly useful. You can learn important tips and tricks for working as a travel PT, gain inspiration for your next move or access resources that can help expand your job opportunities.
The life of a travel PT can be incredibly fulfilling, and the best websites and online journals reflect that. Here are the top five travel physical therapy blogs you should be reading:
1. HoboHealth
The scoop: HoboHealth is a trusted source of travel therapy news, insights and advice. Collected on the site is a useful mix of travel writing, tales from the road and tips for working as a travel therapist. There are also discussion boards where travel PT can swap stories and wisdom.
Authors: HoboHealth is run by a husband-and-wife team of traveling therapists, James Spencer and April Fajardo. Between them the pair brings unique perspectives on travel therapy that have been shaped by extensive experience in the field. The site also hosts guest posts from other real-life travel PTs.
Tagline/'About Us' page excerpt: "For traveling therapists by traveling therapists."
Sample posts: "Does travel therapy really pay better?" "The big settle down," and "Your first travel gig."
2. PT Adventures
The scoop: PT Adventures is an engaging, inspirational blog that chronicles the lives of its travel PT authors and the career advice they've learned along the way. The articles are centered around making travel PT a tangible, realistic career for whoever is interested in it.
Authors: Ellen and Stephen Stockhausen, a married couple who travel the world as physical therapists. They both began their careers in permanent positions at outpatient clinics, but then made the switch to travel PT. The blog also hosts guest posts from other adventurous travel PTs.
Tagline/'About Us' excerpt: "We have worked in five different states, in multiple settings, and have filled our lives with as many unique and exciting experiences as we can … This blog has come out of the requests made by family, colleagues and friends who want to either learn how to do the same thing for themselves or simply live vicariously through our stories and photos."
Sample posts: "6 tips for negotiating short-term housing on Airbnb," "How to find a recruiter you love" and "The 5 foundational skills of PT."
3. WanderlustPTs
The scoop: WanderlustPTs is a comprehensive site that provides a treasure trove of valuable resources for the current traveling PT, budding professional or new grad. The focus of the site is on offering the guidance and support that can help travel PTs have the confidence to shape the career of their dreams. In line with this sentiment, WanderlustPTs also runs a Travel Therapy Mentorship program.
Authors: Jessica Renzi, a traveling therapist who specializes in homecare and outpatient. She's also calls herself "yogi, planner, optimist." Jessica's husband and fellow traveling PT, Gabe, also contributes to the site and the mentorship program.
"WanderlustPTs is a comprehensive site that provides a treasure trove of valuable resources."
Tagline/'About Us' excerpt: "You want to be a traveling physical therapist. You want to live life to the fullest, have the freedom to explore. You want balance between work and play. You want to continue to grow as a clinician. You want mentorship through the process. But you don't know where or how to start … You are in the right spot! That is exactly why we created WanderlustPTs. Let us guide you on your journey to becoming a traveling therapist."
Sample posts: "Top 10 states for travel PT," "Have you ever dreamed of a road trip?" and "How to achieve your goals and dreams."
4. New Grad Physical Therapy
The scoop: New Grad Physical Therapy is dedicated to providing early-stage physical therapists with the insider perspectives they need to help set themselves up for success in their careers. Not all posts are on travel PT, though there are a variety of blogs in the area that offer valuable advice and insights. New grads aren't the only audience that will find it useful to check in regularly with this site.
Authors: New Grad Physical Therapy is maintained by a team of PTs from different parts of the world and of various backgrounds. Several team members are travel PTs. The site also accepts guest posts.
Tagline/'About Us' excerpt: "Our mission is to provide new physical therapists resources and tools they need to be successful in both their careers and their lives … New Grad Physical Therapy is built upon the foundation of interesting people doing great work. New graduates and young professionals are the future, and we must cultivate the growth of our generation. Helping each other means improving the care that we provide our patients."
Sample posts: "13 lessons we learned about being a new grad travel PT," "Travel physical therapy financial calculator" and "Working as an international travel physical therapist."
5. The Alternative Ways
The scoop: Itching to change up your life and discover a new place? Then check out The Alternative Ways, a blog dedicated to feeding your urge for travel through your career. While the site explores various careers that can come with great opportunities to move around, travel PT is covered as is useful information for setting up a career on the road.
Authors: Joaquim Miro, who launched the blog to prove that "to prove that no matter what job you have, you can travel for as long as you want if you put your mind to it and use the thousands of services that exist around the world."
Tagline/'About Us' excerpt: "I believe there's more than one way to grow your career. Everyone has their own way, their own path to success. Unfortunately society often holds us down and instills fears of failure and shame. Yet I believe the best way to find your way is by staying open-minded and interested in other cultures and methods of thought. I want to help you to learn how to grow your career through travel."
Sample posts: "How to become a traveling physical therapist," "Coffee cultures around the world" and "The secret to travel is in the mind, not the location."