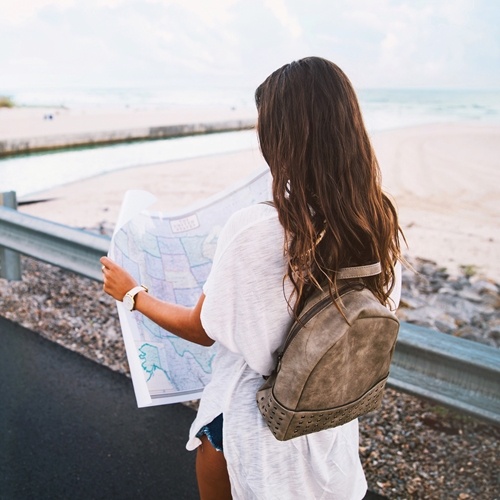 If you're hitting the road soon to travel to a new assignment, you should take a little time before you leave to gather some helpful tools for the journey. This way, you can travel smart and feel less stressed knowing you're prepared!
Here are three tools you should have when you hit the road:
1. Maps & apps
Today's traveler should take advantage of both old-school navigational aids and new, innovative tools.
First, keep a physical road atlas in the car at all times – it comes in handy in places where GPS isn't working or you have no internet connectivity. It doesn't need to charge, either, making it a lifesaver when your devices run out of battery.
Second, take advantage of apps that make road trips go more smoothly. A particularly helpful one to download is Gasbuddy. Fuel adds up quickly, and Gasbuddy shows the best possible prices and closest stations, wherever you are. It has a helpful trip calculator tool, too, which shows you the cheapest stations along your route, which is useful for not only long road trips but for when your regularly have to crisscross a certain area on your assignment. In addition, you can view reviews of gas stations so you can steer clear of sketchy ones and head toward locations with the friendliest service, cleanest restrooms and best snacks. Gasbuddy is available for iPhone and Android devices – learn more about the app here.
2. Tools for the trunk
Keep some "just-in-case" items in your trunk for emergencies and hiccups on the road. A few things you should pack are:
Jumper cables: Don't leave home without them! You don't want to be stranded somewhere with a dead battery.
Flat tire kit: A portable tire inflator, patch kit and other tools can be the difference between being stuck for hours on the side of the road or getting right back out there. Be sure you know how to change a tire, too!
Flashlight: Changing a tire in the dark is a real pain, so keep a flashlight in the trunk.
Blanket, sweatshirt and walking shoes: You probably won't need them, but pack them just in case.
3. Speed dial & auto dial
If you're out on the road on you're own, you need to be able to easily get help. First, make sure you're set up with some kind of roadside assistance, like those offered by OnStar and AAA. They'll send help for many types of situations major and minor. Also look to see if a roadside assistance program includes an auto-dial feature. OnStar, for example, offers Automatic Crash Response. Built-in sensors can detect a crash and automatically alerts an advisor who contacts you and asks if you need help.
Learn more about OnStar roadside assistance programs here, and AAA's offerings here.
Also, be sure that you have your recruiter's number on speed dial. Always contact them if there's an emergency, as they can quickly send help.
With these three tools, you can be ready for the road!