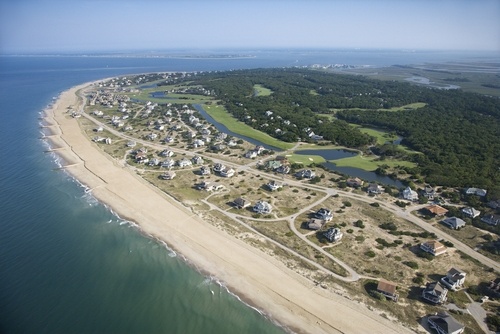 Travel therapists enjoy the freedom of being able to detach themselves from the demands of traditional, permanent employment and instead explore new places to their hearts' content. What better place to apply your skills and satisfy your love of exploring new sights and sounds than a coastal town? The fresh, invigorating sea breeze, the calming sound of the waves, the gorgeous vistas – it's the perfect type of location to reflect and rejuvenate.
To inspire your journey, here are three coastal towns to consider for a travel assignment:
1. Portland, Maine
Maine is famous for its majestic, rugged shorelines and dramatic seascapes. In Portland, you get the best of both worlds: breathtaking nature and a dynamic downtown scene. This small city is becoming a favorite stomping ground of ambitious young professionals who want a satisfying balance in their lives between outdoor activities and arts and culture.
"Nurturing its historic working waterfront right alongside a hip, high-tech, and creative economy, this port city on Casco Bay hums with art, culture and an internationally known culinary scene," writes Coastal Living magazine. "The compact downtown is filled with historic brick and stone architecture, and crossed with cobblestone streets, making it picturesque in all seasons. Plus, of course, there's instant access to the freshest lobster going."
Vibrant energy and super-accessible nature – what more could you ask for?
2. Carmel-by-the-Sea, California
Do rows of elegant, pastel-colored Victorian mansions overlooking dreamy sunsets sound like a whimsical wonderland to you? Then consider a travel assignment in the cute and quaint beachside town of Carmel-by-the-Sea in Northern California. With its picture-perfect views and curated collection of top-notch boutiques and restaurants and cobblestoned streets right out of a fairytale, it consistently tops Best Beach Towns lists. One particularly swoon-worthy accolade is that it's known as one of the most romantic getaways in the U.S., according to The Culture Trip. And we haven't even mentioned its ocean-front location yet – Carmel Beach with its soft white sands and Cypress trees will take your breath away.
3. Naples, Florida
Benefiting from the warm winds and currents of the Gulf of Mexico, Naples, Florida, is a haven for beach-lovers looking to live the good life. In fact, Naples has been recognized for many impressive awards. For example, residents of the Naples-Immokalee-Marco Island area were recently recognized for having the highest well-being in the country, according to a Gallup survey. Naples was also named the No. 1 beach town in America to live in by WalletHub, with the city receiving high marks in 49 indicators of livability. Bright, sparkling blue waters, swaying palm trees and lush nature sanctuaries provide postcard views galore, while downtown you'll find hip art galleries, memorable restaurants and world-class boutiques. Whether you enjoy active activities like boating and fishing or prefer spending your weekends enjoying local theater and arts events, you'll find much to love in Naples.